PLANTS FOR SALE
TROPICAL FRANGIPANI (PLUMERIA)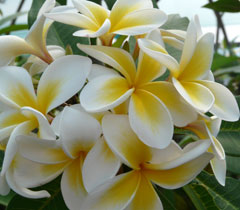 Tropical Frangipani is a deciduous tree with a woody open structure and highly fragrant flowers throughout the summer months. They give months of rewarding perfume and are a desirable feature plant around pools and potted up in landscapes.
We are collectors and specialist growers of tropical frangipani only, with all of our plants grown from cuttings. This ensures the exact DNA as the parent plant.
Plants are graded and priced in late November of each year and for sale from then, until the end of summer. Pricing is based on size, height and branch habit of the frangipani not pot or bag size.
We aim to have frangipani to suit all budgets with sizes ranging from 25cm up to 1.2m in height. Our most popular frangipani is the common yellow (white/yellow). When available, coloured frangipani will be small grade only.
Small plants are shipped NZ wide while advanced frangipani require pick up from Tauranga, or delivery by a specialist carrier. (Advanced plants are in limited numbers annually).
PLANT PRICES
Please contact us for availability, sizes and pricing.
---
TERMS OF TRADE
Sorry, we are unable to export outside New Zealand.
Payment for plants can be made through direct bank account credit. We will advise our bank account details on receipt of your order.
Orders are dispatched once payment has been received.